ILLUMINATED BALCONY: INTRODUCTION
Balcony lighting should be designed in every detail to make it a comfortable environment ready to host your outdoor evenings. Find out how to do it now: ideas and tips.
With the arrival of nice days, we bet you can't wait to start organizing appetizers and dinners on the balcony again. Think about it for a second, are you sure you're best equipped when it comes to lighting?
In a small balcony, those typical of city apartments, outdoor wall lamps with IP44 protection will be sufficient. If you have plants, you can use them as a support for sun chains: just bring them closer to the railing.
Please note that we are talking about functional lighting, i.e. lighting that will illuminate the area. If we're referring to ambient light, however, you can choose anything you like, from candles to glowing garlands. Give free rein to your imagination, without overloading the space too much and risking making it unusable.
Without a doubt, if you have the opportunity, the best decision you can make is to hire a professional. It is no coincidence that we talk about "design" of the lighting as this requires special care.
If, on the other hand, you'll be doing everything on your own, read on: now we'll go into detail and see some simple practical tips.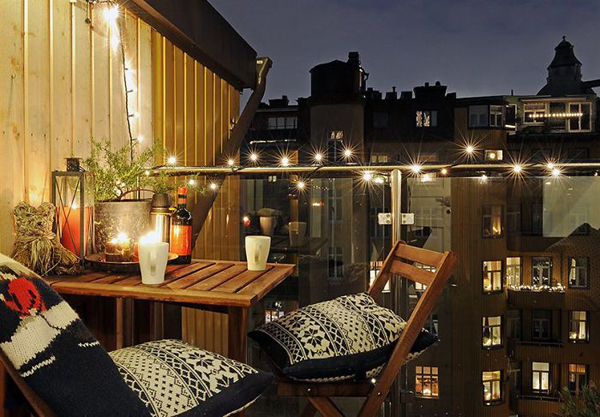 RULES TO FOLLOW
We have already mentioned the difference between functional and mood lighting. In practice, you must first of all determine the objective for which you want to light your balcony; this choice will result in very different final effects. In fact, if with scenic lighting you will create a relaxing and convivial atmosphere, it is only with functional lighting that you will allow your guests to see what they have on their plates;
Depending on the characteristics of the balcony, i.e. open/covered, its size, the furniture, the use you will make of it, you will be able to determine not only the type of lamps to choose, but also the quantity; moreover, the position where you will place them is also very important;
Make sure to make the transition areas clearly visible in order to avoid unpleasant inconveniences;
Pay attention to the regulations inforce: in Italy there are specific directives to be respected and they can vary from region to region. As a general rule, the light beams must not be directed towards the sky and must not exceed 90°; light dispersion, power, consumption must also be taken into consideration. It would be a good idea to also check the condominium regulations and more generally avoid bothering the neighbors with too strong or direct lights, we are sure that otherwise it would bother you too;
It is advisable that the lamps chosen are anti-glare, anti-corrosion and resistant to sudden changes in temperature and adverse weather conditions; finally, consider that they are watertight so that they allow the entry of insects.
USEFUL TIPS
Before purchasing, we suggest you read these tips carefully.
As far as temperature and colour are concerned, for the lighting of a balcony we recommend light tending towards warm white or neutral (2700K /3000 K warm light, 4000K neutral light), so as to encourage relaxation; on the contrary, cold light (over 4000K) would risk being too "viscous".
Sometimes, spending more at the beginning or investing in energy-saving and high quality products, turns out to be the best choice because it allows you to have a durable asset whose cost will be amortized over time. For example, with lamps of a certain level, in the event of a failure, it is almost always possible to replace only the damaged part and not the entire luminaire.
Again, a great solution, indeed also eco-friendly, are outdoor motion sensors with timers. Great especially for transition areas, they can also be useful on the entire balcony surface as all you have to do is activate the timer devices to enjoy perfect lighting every night.
If your balcony is entirely covered, you can also take advantage of the ceiling and choose pendant lamps. In that case, you can also choose them with a degree of protection lower than IP65, i.e. it is not necessary that they have full protection against water jets and dust.
Finally, if you love plants, you can give free rein to your creativity and embellish them with LED lights with a stake included (in this case to be planted directly into the ground). Glow garlands are a surefire wow factor, and not just at Christmas – these days you can find them for sale almost anywhere, both online and in stores.
LEAVE A COMMENT
If you found the article interesting, leave a comment. Also, if you need guidance on lighting your balcony, email valeriadesign@casaomnia.it!