CONCRETE: INTRODUCTION
In some villas, concrete was used to create external furnishings to replace the classic furniture.
Tables, seats, benches, niches used as storage surfaces or open showcases were the most used complements.
Lately this material, thanks to constant research and experimentation, has reached quality and working levels that have made it suitable for use in interior furnishings.
Thanks to the work of architects and design, this material is used to create elegant, resistant and functional furniture, floors and accessories.
Internal and external spaces today have a unique common denominator because no material lends itself to the infinite realizations allowed by concrete.
We start from the coverings such as floors and vertical surfaces of our homes where this material is a valid alternative to marble, parquet, stoneware and resins.
Initially this solution was adopted in industrial environments while now it is also used for private buildings becoming raw material to create surfaces of great impact.
In addition, concrete was the symbolic element of twentieth century architecture, from "rough" material it becomes "light" with the addition of sand and glass fibers.
In fact, this allows its use to produce furnishing accessories such as tables, seats, consoles and small objects such as vases, lamps and various objects.
It is a solid and resistant material and at the same time ductile and customizable with the addition of metal powders or paste colors, even if the "unfinished" raw aspect increases the charm of certain furnishings.
Concrete adapts to all types of interiors and styles due to its multiple qualities. In fact, it is a hard, dense and resistant material but also flexible taking the shape, color and appearance we desire.
In fact, with this material it is possible to create relief designs by recreating the leather or ceramic effect, in addition it is extremely luminous and able to make a "warm" environment.
CHARACTERISTICS
In construction, the term concrete, or more properly the hydraulic one, refers to a variety of building materials, known as hydraulic binders, which mixed with water develop adhesive properties.
Cementitious paste or grout, cement plus water, is used as a binder mixed with inert materials such as sand, gravel or crushed stone.
if the cement paste mixes with a fine aggregate (sand) there is concrete mortar;
if aggregates of different sizes are added to the cement paste, concrete is obtained;
if the concrete is coupled with an armature consisting of steel rods, suitably positioned, there is reinforced concrete.
Germany was the first producer in Europe in 2014 (the second was Italy). Furthermore, it is estimated that 36 million tons of cement were produced in 2009, equal to about 601 kg per inhabitant. Finally, the world production in 2008 was 2.83 billion tons, or approximately 450 kg per capita
ADVANTAGES
Concrete is a material that has many advantages. First of all its cheapness, especially when compared with marble and granite.
Concrete in fact has a very low basic cost which makes it appreciable first of all by the end customer but also by the whole chain that goes from the conception to the realization of the products.
Even the environment benefits from the use of cement for the creation of home furnishings, just imagine the infinite number of trees that are saved.
Cement can be shaped in any shape, curved and rounded better than any other material, it can take on any color.
Furthermore, combined with mortar, sand, glass fibers and other additive materials, it can be used indoors or outdoors if treated with additives.
So thanks to cement you can create a shiny floor or with special effects. Furthermore, bathroom fixtures, kitchen furniture, chandeliers and any other furnishing material can be made.
Therefore, nothing is impossible to achieve thanks to the use of concrete.
FURNITURE
The trend towards the use of concrete is widely disclosed by professionals, architects, design, companies in the sector and by specialized magazines.
Just browse one, in fact, to find many new ideas to furnish any indoor and outdoor environment with concrete creations in an elegant, comfortable and modern way.
Tables with concrete base or feet, chairs, armchairs, sideboards, kitchens, bookcases.
Finally, the imagination of the designs has found thanks to the cement the possibility to give free rein to the imagination by creating furniture that can be made by skilled workers directly inside the home, adapted to the measures of the environment or to customer needs.
FURNISHINGS
Of course, when it comes to furniture concrete, one should not imagine the classic bag of raw concrete with which the bricklayer pulls on a wall or repairs a hole in the cellar.
In fact, the material used for the creation of concrete furniture and accessories is a much more refined product, the result of years of laboratory experiments and tests to verify its consistency, durability and effectiveness over time.
The use of concrete in furnishings has changed the way we see the house and has allowed us to give free rein to the imagination and creativity that is within each of us.
The use of concrete in furniture is not yet seen by all people as the true alternative of the modern era to furnish and beautify their home.
With concrete furniture and accessories, the time dedicated to maintenance is also considerably reduced because the surfaces are not attacked by external agents as happens with the classic wooden furniture.
The uniqueness of the product makes the environment more personalized because in most cases these are works created on the basis of specific customer requests.
CONCLUSIONS
Cement has long been the undisputed ruler of industrial design.
In fact, uncoated rough surfaces combined with chromed metal, black and gray tones and suspended elements are the perfect embodiment of this style.
However, the fluidity of polished concrete allows for smooth and uniform trendy surfaces that now easily find their place in a modern, concrete and sober design.
In addition, combined with 1940s and 1950s furniture, it also finds its place in period furniture.
Finally, the purity of the concrete, its raw character and the ability to combine with natural materials.
Wood, leather, marble and natural fibers such as linen, cotton and wool will blend perfectly with the sobriety of concrete. It is an equally "good" mix in a Scandinavian or rustic interior.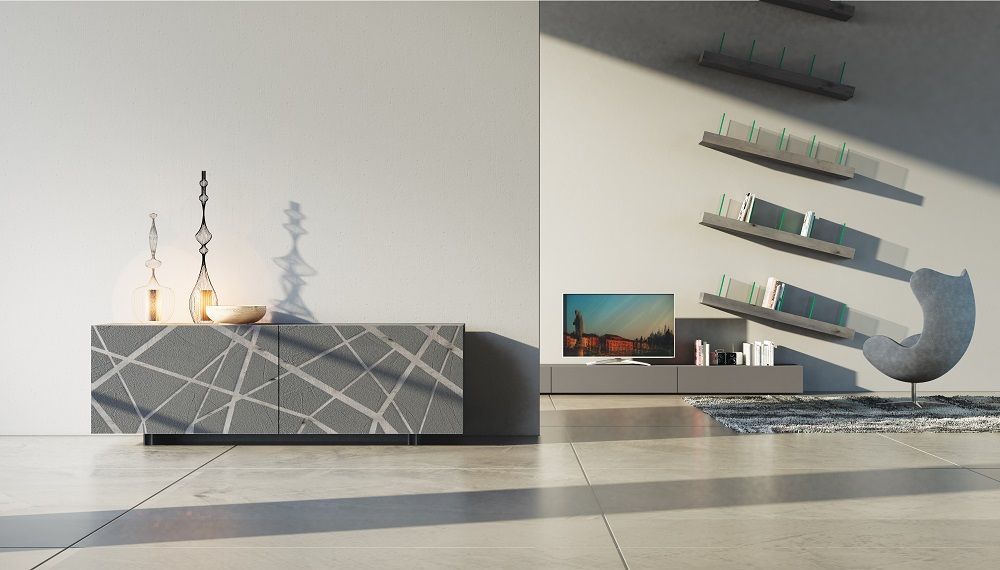 LEAVE A COMMENT
If you found the article interesting, do not hesitate to leave a comment with your considerations!
Finally, if you need a personalized guide to choose with care and awareness how to use cement for your furniture, send an email to valeriadesign@casaomnia.it!