ILLUMINATE THE ATTIC: INTRODUCTION
It's never easy to illuminate the attic: both in terms of the furniture and the proper choice of attic lighting. Often it is the latter, however, that gives a dimension and deeper spaces to our attic, making it seem more spacious than it really is.
In this article, we will show you possible solutions to make the attic a comfortable and inviting place even if it is cheap. We will show you a number of possible configurations to best illuminate your attic and make it suitable for your furnishing needs.
ALTERNATIVE LIGHT SOURCES
There are different solutions for lighting your attic, but the first piece of advice we feel is to not use a single light source. It could create a monotonous and unwelcoming effect. Having different light sources could make it more interesting, as well as allowing possible dark corners to be illuminated as well.
We at CasaOmnia offer a range of solutions, which can also be purchased on our online store:
It is essential not to focus only on one type of light, but to use every creative and imaginative solution possible. Light is the main element in making your attic look significantly more spacious than it really is.
USE NATURAL LIGHT
Another interesting solution is to try to make the most of natural lights to illuminate the attic. So first of all give ample space to the attic with a large window that can illuminate it fully. In addition, it could be useful to try to leave the natural light sources free from bulky objects; but rather, do not obscure them with curtains, drapes or anything else of dark colours and too heavy materials.
CHOICE OF LIGHT
Given the size of an attic, lighting the attic is not easy. In fact, you often have to give it the same importance that you give to design. On the other hand, if used in the best possible way, light is a very strong and impactful design element. In this regard, the choice of heat and degree of light is of paramount importance.
Our main advice is to choose attic lighting that will make the most of the space, giving the impression of being in a larger, more welcoming environment. Consequently, it might be an idea to choose lights with warm tones to give that touch of intimacy and comfort, necessary in such a small living situation.
ATTENTION TO SPACES
Very important at this point, remember that unfortunately an attic will not allow you to indulge in creative and bulky types of lighting. This, unfortunately, because the available space is limited and must be exploited with maximum efficiency to the last available inch.
Perfect for attic lighting could be the choice of a recessed or track solution. This solution is highly recommended for an environment such as an attic as it allows for an excellent amount of light, with the minimum amount of space occupied.
With a little imagination and the right lighting knowledge, you could actually find innovative solutions that can light up your attic in a unique and trendy way. Let your imagination guide you!
Finally, special solutions such as shelves, illuminated wardrobes, bookcases, etc. may be necessary to effectively illuminate even the most difficult corners of our attic. These solutions, in addition to being convenient and space-saving, allow you to give your environment a space and depth necessary to make your attic comfortable.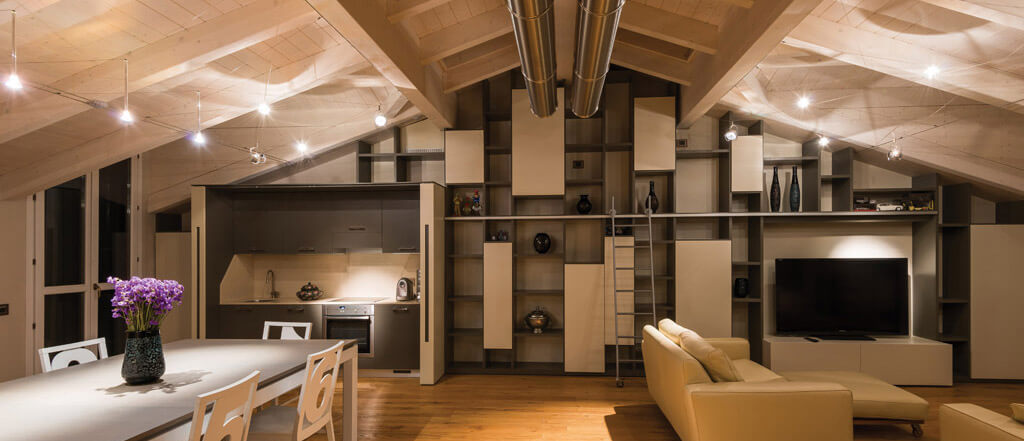 LEAVE A COMMENT
If you found the article interesting, leave a comment with your considerations on it.
Also, if you need personalized advice to illuminate the attic, send an email to valeriadesign@casaomnia.it! What are you waiting for? Take a look at our CasaOmnia.it portal to find out the items to illuminate the attic that best suits you!