MARINE STYLE: INTRODUCTION
Who dreams of an escape to the sea in a small house like those on the coast and with a single pastime do some diving breathing the sea breeze? And if the holidays are still far away for you, it is better to bring them to your home with a marine style.
In fact, recreating the marine atmosphere in your apartment will be a fun game in which every detail is fundamental, but be careful not to make mistakes. In addition to navy blue there is much more.
So what to point on? What are the best accessories and how not to confuse it with other similar trends such as coastal? We have collected some useful tips for you on how to decorate your home in a marine style avoiding the most common mistakes.
To reflect the aspect of an oasis of peace, details play an important role. In fact, on the walls, in plain white or the typical color of the sea, there is a need to enhance elements such as paintings and marine accessories.
COLORS
Brightness is one of the main features of sea themed decorations. Choose white as the main shade for the walls and furnishings, such as tables, chairs and sofas, and combine it with elegant blue. Add neutral tones (cream, ivory, beige) and pastel shades, preferring the blue of the sea and sky, often present in accessories and furnishings.
Light colours are used not only for furniture, but also for floors: bleached parquet with grey and beige veins is ideal. In the bedroom, white or light blue are perfect for the headboards with an aged effect, while in the kitchen you can be won over by the cheerful contrast between white and red. Don't forget a few small touches of gold, for a retro French Riviera-style effect, or coral.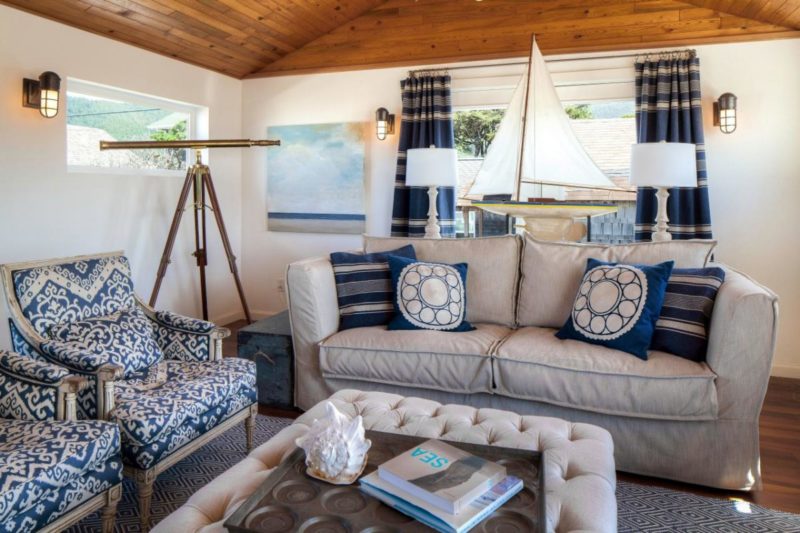 ACCESSORIES
In the nautical style it is the accessories and details that make the difference. They represent the most creative and imaginative part and allow you to give a special touch to your home. Of course, shells are a must: collect them yourself on the beach, store them in jars or display them on furniture or walls, hanging from branches and strings.
Take a trip to the antique markets and find the best marine-themed items: old sailing ships, boat drawings, nautical sketches, knots and ship ropes. More difficult to find but perfect for the sea are also life jackets, buoys and rudders, which will make you dream of golden beaches and adventurous trips.
The symbols and motifs typical of the marine environment are also found on plates, glasses and ceramics. For a seafood dinner, lay a tablecloth with a coral pattern combined with contrasting plain aquamarine napkins, use strictly all white plates, worked crystal glasses and gold cutlery. Complete with a centerpiece made using a vase filled with water, in which to float many small lit candles.
MATERIALS
Surround yourself with all things natural: wood, linen, cotton, bamboo, jute and rattan fit perfectly into a maritime environment. The furniture in the living and sleeping areas is painted in white or in the natural colours of the wood, preferably lightened by wear or through special techniques. The alternative? The golden metal, ideal for the bed frame and lamps.
PRINTS
Anything that reminds you of the shoreline, boats and the ocean becomes a perfect motif for nautical style. The most iconic pattern is certainly the striped one, in the classic combination of white and blue or white and red, but you can go much further. Here are a few items to take inspiration from for tablecloths, sheets, curtains and pillows:
Drawings of lighthouses, seagulls, ships and boats
Fantasies with fishes, starfishes, corals and shells
Stylized motifs of anchors, lifebuoys, deckchairs and sunbeds
TIPS
No need to remodel the entire house to recreate authentic maritime charm. Just a few elements and ad hoc furniture are enough to bring a breath of fresh sea breeze and create an environment that smells of sun and saltiness. Here are a few helpful tips to get you started on your big or small make-over right away, suitable for the holiday home, but also for the studio apartment in town.
An old chest of drawers forgotten in the attic can be transformed into a little maritime jewel thanks to a white paint job. The extra idea? Use it for your entryway or hallway, pairing it with typical objects like a small lighthouse, a sailboat, a vase with shells or decorative glass bottles.
Pillows, curtains, runners and other home textile decorations can completely transform a room without much effort. Fabrics in blue and white with motifs such as anchors, lighthouses or knotted ropes are very beautiful and create a nautical atmosphere in the blink of an eye. Add elegant, floor-length white linen or cotton curtains for a romantic and light effect.
Don't underestimate the importance oflighting: opt for wooden table lamps with white shades, glass lanterns, light chains and white candles, to be placed in the living room and even on the balcony or terrace. And just for the outdoors, don't forget a classic deckchair made of wood and striped fabric. All you have to do is relax and let yourself be lulled by the thought of the sea: you'll feel like you're at the beach every day.
CONCLUSIONS
So, after seeing what marine style is specifically, let's see in summary what are the rules to be respected and the errors to be avoided.
First of all, it is very important not to confuse it with the coastal style.
The latter is much more relaxed and is a clear reference to the calm of the sea and the beach.
Unlike the marine style, however, it takes on a more shabby-chic nuance by declining its palette in neutral tones that have little to do with intense blue. Hence, marinaro is not synonymous with coastal.
Furthermore, among the most frequent mistakes that could be made when decorating in a marine style there is certainly not giving the right importance to wood.
In a white version with long strips like those of houses by the sea, but also and above all dark and robust to remind the interiors of ships, do not forget to combine it with portholes and wrought iron elements for a result truly in tune with style.
Objects that can refer with the mind to the sea and sailor life are also very important. In fact, accessories such as shells, anchors, life jackets scattered around the house become very important, as well as vintage maps or postcards left on display on tables or walls.
In conclusion,it is very important to give the right importance to prints and fabrics when decorating in a marine style.
In fact, yes to organic and robust fabrics such as cotton and linen, also accompanied by plain or striped jute and hemp and which in any case recall the idea of the sea and the routes of naval trade.
Furthermore, the sofa will become the perfect place to recreate a small vessel on which to let yourself be lulled slowly.
LEAVE A COMMENT
If you found the article interesting, leave a comment with your considerations about it!
Finally, if you need more detailed advice or a personalized guide to decorate your beach house in a marine style, send an email to valeriadesign@casaomnia.it!