PARQUET: INTRODUCTION
The warmth, the smell, the visual beauty of the parquet floors conquer the heart and the gaze.
When you are struggling with the renovation and restyling of your home, it is always advisable to consider the possibility of equipping the interior with wooden floors.
With an increasingly generous range of essences and color varieties, the parquet gives the rooms in which it is placed a peculiar character.
Although you need specific care for their maintenance, including the periodic application of wax or oils, and may suffer changes in case of intense and prolonged sun exposure, this type of floor demonstrates a particular aptitude to marry with different styles and tastes.
WHAT IT IS
Parquet, also called a small platform, is a natural, warm and wooden flooring. It adapts to rustic, shabby chic and modern environments, is versatile and allows you to customize your home, choosing from different designs, colors and types of wood.
Specifically, parquet is a flooring made of solid wood of variable thickness, from 10 to 22 millimeters, or by assembling individual wooden elements with a minimum thickness of 2.5 mm, to a support that can be in birch plywood or other.
Parquet floors can be composed in a "traditional" way, with rectangular tables placed close to each other, or following different patterns and geometric shapes, with different varieties of wood so you can also play with colors.
This type of floor was born in the Neolithic, in a very rudimentary form, and persists to the present day.
Much appreciated in the Middle Ages and in the Renaissance, it changes over the years up to the present day and modern construction techniques.
In short, it is a timeless floor that has practically always existed and will continue to exist in the future.
One of the advantages that made it highly appreciated in all eras is definitely the thermal insulation that allows the house to remain warm even in the colder seasons.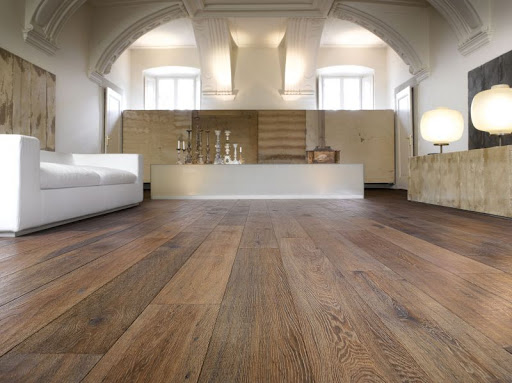 ADVANTAGES AND DISADVANTAGES IN GENERAL
There are different types of parquet, which we will analyze later on specifically. For now, let's dwell on the perceived advantages and disadvantages commonly for each type of parquet flooring in general.
ADVANTAGES
Let's start with the positive sides that distinguish the parquet, those that by hearsay but that are true anyway:
Insulation thermal, given the natural properties of wood;
Isolation acoustic, which can be increased thanks to the special insulating panels that you can be inserted under the parquet;
Resistance to wear and tear, which is why parquet is also used in plant engineering. facilities;
Increase of the real estate value, in fact in case of sale a house with parquet floors it is worth more than the others that do not have it;
Beauty and high aesthetic value;
The wide choice, types of wood, colors, designs, we have a wide range of types to choose from to give your home a completely personal touch;
Uniqueness, no parquet can be the same as another, each piece of wood is unique with its particular veins and its knots.
DISADVANTAGES
Let's now turn to the negatives, which are unfortunately true as well:
High price;
Time long laying, need for a professional and quite operations operations;
Maintenance constant, to slow down the natural process of oxidation of the wood;
delicacy, although it can last for generations it is easily scratched;
Exposure to the sun problematic, parquet tends to discolour in thick places often exposed to sunlight;
Changes according to the environmental conditions, widens in case of humidity and gets and narrows in case of too dry air;
Maintenance special, necessary after many years but rather expensive;
Difficulty in repairing a damaged part, if you damage a small part of the you have to sand all the parquet;
As we can see, the advantages and disadvantages are equivalent, we just have to evaluate how serious we consider them and how much instead, we can pass it on.
In fact, before deciding to install the parquet you have to ask yourself how long you will have available for its care and how much we are willing to be careful not to damage it.
SOME MYTHS TO DISPEL
As mentioned in the introduction to the guide, there are numerous legends about parquet, above all negative.
Let us dispel some myths.
IT CANNOT BE USED IN THE BATHROOM AND IN THE KITCHEN
This, for example, is not entirely true. In fact, there are particular types of wood that resist water well. Some woods are very stable such as Doussiè, Iroko and Merbau. Following some indications, that are dictated more by common sense than anything else, the parquet can be placed throughout the functional.
You just need to dry the water that falls on the floor after taking a shower or bath and ventilate to avoid condensation. In the kitchen, instead, just be careful not to spill pans full of oil on the floor.
DOES NOT AGREE WITH DOGS AND CATS
Not with all types of wood, this is true, but with some yes.
Just find a wood that is strong enough, or treat the wood so that it can be restored in case of scratches.
Imagine if everyone who has parquet does not have pets with sharp claws. It is true that wood is normally delicate and scratches, but valid solutions can be found.
IT CANNOT BE USED IF YOU HAVE THE HEATING FLOOR
Those of duty will certainly be able to advise you on the right type of wood. Nothing more, you can have parquet even if you use this type of heating without running the risk of catching fire.
Again we are faced with an urban legend which has no real foundation. Obviously before making risky moves and having regrets for life, in this case it is always better contact an expert in the field.
TYPES OF PARQUET
Now that we have seen the general advantages / disadvantages and the various myths circulating on the parquet, we can move on to specific types.
TRADITIONAL SOLID PARQUET
This type of parquet is composed of planks, called laths, made entirely from noble wood. This means that it is thicker and that the parquet has a single layer.
Each strip is 100% made of a single piece of wood and it has a thickness than most commercial parquet floors.
PROS
Very long lasting;
Possibility of sanding and polishing to make it look like new;
Greater acoustic insulation due to the thickness;
Possibility of customizations such as geometric designs.
CONS
It needs a lot of care;
Every 10-15 years, sanding is a must;
It has a high price;
The installation requires a professional and it's a long procedure.
PREFINISHED PARQUET
The prefinished parquet, unlike the traditional one, it is ready to be laid. It has only a top layer of noble wood, glued on a layer of poor or multilayer wood.
PROS
Fairly low price due to less valuable wood;
Reduced laying times;
Possibility of not relying on a professional. In fact, if you are practical enough with manual labor, you can install it by yourself;
Repairability, a small portion of the floor can be changed without the need to polish it all;
Greater stability than the traditional, in fact, suffers less from humidity.
CONS
Reduced insulating power, because of the little thickness;
Shorter life than traditional parquet, can be sanded fewer times;
No possibility of personalization.
INDUSTRIAL PARQUET
This particular type of parquet, once used only for sheds and industries only for sheds and industries is created with wood waste from various productions. It is made up of small strips which offer a pleasant aesthetic effect.
PROS
Very low price
repairability
Excellent resistance due to the compactness of the material
High stability
CONS
Presence of imperfections;
Possible presence of many knots
FLOATING PARQUET
The floating parquet has special anchors fitted with joints which are used to mount it without gluing it to the floor. In fact, to install it we use an alternative laying technique to gluing.
PROS
Ecological and removable;
Cheap;
It does not ruin the floors;
Thermal and acoustic insulation;
You can mount it in DIY;
Easily repairable.
CONS
The insulating material on which it must be placed is subject to humidity, with the risk of mildew and unpleasant odors;
Unsuitable for humid environments such as bathroom and kitchen;
To be stable, it requires a minimum thickness and length of the strips that limit the range of choice;
Some joints are complex and make the price rise considerably.
LAMINATED PARQUET
The laminate is an alternative solution to parquet that guarantees the same type of effect with different benefits.
It is composed not of dowels, but of wood fiber and resin panels on which a decorative sheet is imprinted that faithfully reproduce a woody essence.
PROS
Economical due to its nature and speed of installation;
It does not require excessive maintenance;
The decorative sheet is waterproof and wear resistant;
it is possible to add soundproofing supports.
CONS
It is not possible to renew it with sanding;
It does not resist to heat very well.
BRUSHING TECHNIQUE
If you opt for a classic parquet, you can enrich the essence of an additional vital brightness through brushing.
Brushing is a finishing technique performed through the use of rotary brushes on the surface of the wood, to highlight the veins. The result it will be a rougher to the touch parquet, which can be oiled or painted.
The oiling will give a rougher and warmer result, ideal for rustic environments, while the painting will give a smooth and shiny result, suitable for modern environments.
MAINTENANCE
Here are some useful tips to keep your parquet young and beautiful over time:
Clean your parquet with a vacuum cleaner and with the aid of a slightly dampened cloth, avoid washing it as if it were a normal floor;
Feed your parquet with specific products;
Pass the wax regularly, and avoid using at home shoes with heels or rigid soles;
Enjoy parquet and live on the ground as much as possible, maybe with the help of soft rugs or comfortable low ottomans.
CONCLUSIONS
A parquet is an investment that is definitely worth making, on one condition, however.
When deciding to buy it, one must be well aware that maintenance must be constant throughout the life of the wood.
A parquet floor cannot be neglected. It's not as annoying as it seems, you just need to dedicate yourself constantly to its well-being, as is done with all the valuable things that need maintenance.
To clean it, basically, just a special product and a slightly damp cloth. Every 15 years, it is sanded again and returned as new.
Also, if we decide to sell the house we can ask for a higher price because its market value goes up.
In addition to the more venal side of the matter, there is also something to be said, that wood is a living material, those who change over time, something completely different from cold tiles.
In fact, walking barefoot on parquet cannot be compared to walking on any other material.
Even in winter it is not as cold as it happens with ceramic tiles but retains the warmth typical of a living thing.
Those who use parquet once hardly switch to anything else, because it's a really comfortable type of floor.
Compared to all the others it also allows you to personalize the house. In fact, we can choose between the checkered, herringbone or geometric/designs pattern installation, to make our home more in line with our tastes and with our personality.
No other floor allows such a wide customization of space!
LEAVE A COMMENT
If you found the article interesting, leave a comment!
Also, if you are going to assemble the parquet in your home but you still have no clear ideas, don't worry we are there!
Send an email to valeriadesign@gmail.com with your doubts about it and we will guide you in choosing the flooring that will best meet your aesthetic and functional needs.