TETRAPAK: INTRODUCTION
How to recycle the tetrapak? Where to throw containers of milk, juice and other drinks? You can transfer these waste to paper or plastic, according to the indications, you can also use it for chores with creative recycling.
The transfer of the tetrapak depends on your municipality or on the company that manages the separate collection. In fact, to know where to throw it, you can ask for information and also consult dedicated websites and apps.
Typically, the containers rinse and flatten before being thrown away. In addition, if there are caps and other plastic elements, you can also remove them, especially if this is required.
Turning them into something new and creative do it yourself is not difficult at all! In fact, the methods and ideas available are endless. The simplest method requires a few steps and a little practicality in manual activities.
First, take dirty and already used containers. After rinsing the containers, dry them and use them for creative chores, which can also be done together with the children.
In fact, tetrapak boxes can be transformed into buildings, small trucks, animals or become a piggy bank or pen holder.
Finally, decorate them with colors or try to do the decoupage, paste other details like the wheels and you're done.
The containers are also used for gardening, to start the cultivation of seeds and to grow the seedlings to be transplanted.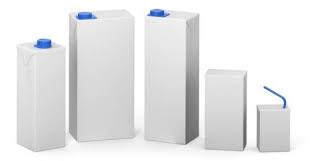 ORIGINS AND CHARACTERISTICS
Tetrapak is a multinational company that produces integrated systems for the treatment and packaging of food. It was founded in 1951 in Lund, Sweden, by Ruben Rausing and Erik Wallenberg. In addition, the company is part of the Tetra Laval group.
Tetrapak's first product was a cardboard container used to store and transport milk. It was called Tetra Classic.
Ruben Rausing had worked on the project since 1943. Only in 1950 had he perfected the technique to make this type of container absolutely impervious to air, using a plastic coating system of the paper.
These first containers were in the shape of tetrahedrons (solid with four faces) and the name of the company was born from them. In 1952 the first Tetra Classic container was launched and, later, in 1963 the company introduced the Tetra Brik, a rectangular container.
Ruben Rausing's son Hans led the company from 1954 until 1985, leading it to become one of Sweden's largest companies.
Tetra Pak was founded on the concept that a package should save more than it costs, providing the opportunity to "move a food in space and time."
Alfa Laval was part of the Tetra Pak group between 1991 and 2000. In 1991 Alfa Laval Agri, a manufacturer of equipment for milk plants and agriculture, split from Alfa Laval.
When Alfa Laval was sold, Alfa Laval Agri remained part of the Tetra Pak group and was renamed DeLaval.
CREATIVE IDEAS
The possibilities of using tetrapak are really numerous. In these particular creative recycling activities, the two elements necessary for the realization of the final work are certainly patience and creativity.
Don't be discouraged if things don't work out the first time. What's important is that you have fun and find DIY a pleasant, relaxing and environmentally sustainable hobby!
SUSPENDED JARS
Tetrapak packaging can be used very well to create small pots to hang in the house or on the balcony and where to keep pretty little plants.
That's what it takes:
1 package in Tetra Pak;
vinyl glue;
water-based paint;
brushes;
decoupage paper or fabric;
string.
Let's start by cutting off the top of the container, washing and drying it well. Then, coat the outside of the package with water-based paint. Tear off pieces of decorated paper or fabric and glue them with water-thinned vinyl glue, as you would do in any decoupage operation. Let it dry and make some small holes where to pass the string, you need to create long handles, necessary to hang your colored vase. Fill with soil and choose which seedlings to include.
SHOPPING BAG
The second idea, very useful and a bit more laborious, is to create shopping bags from Tetrapak packaging.
In this case you will need a lot of imagination, also to ensure that the creation suits your taste.
What you need:
Several juice boxes;
Transparent adhesive tape for parcels;
Leftover cotton cloth;
A sewing machine;
and a lot of patience!
Starting by opening the bricks, cutting the base and top and opening the side where the flaps are joined. Cut out the parts you don't like. Next, sew the rectangles made from the bricks together. Continue until the rectangles are your preferred size, to which you have added two side ties to give depth to the bag.
Now, after sewing everything together, cover the entire surface with packing tape. This will serve to reinforce and make the surface of our bag smooth and transparent. To create the handles, lining with cotton scraps two strips also obtained from the rectangles of the bricks and border with a cotton bias, sewn in a zigzag pattern.
Finally, make a bag out of leftover cotton that is the same size as the one made with the bricks and put it inside the latter. Join the two pieces with a bias. Attach the outer handles and you'll be ready to go grocery shopping!
By choosing packs that have embellishments that lend themselves best, you might even consider combining the different pieces to create real tote bags.
JEWELS
Here, finally, is the last idea of creative recycling: some jewelry or brooches in Tetra Pak and pieces of fabric. This process is also very simple: cut out the shape you want from the Tetrapak container, in this case circles. Cover them with fabric that you are going to block, sewing it or using fabric glue. Finally assemble the different shapes. Again, secure the whole thing by sewing or using glue.
If you want to create a necklace, you can think of closing your creation with a chain made of woven fabric or organza, of course in the same color. The ideas for recycling materials are truly endless: the only limit, remember, is the imagination.
LEAVE A COMMENT
If you found the article interesting, leave a comment with your considerations about it!
Finally, if you followed our advice and got busy, send an email to valeriadesign@casaomnia.it with photos of your creations! Go wild with the art of creative recycling!