ZEN SHOWER: INTRODUCTION
Is your desire to have a Zen Shower in your home, perhaps one that you can DIY to save some money? Don't panic, here you will find many useful tips that will do just right for you: let's delve into it together!
First of all, it is good to explain what it is and what are the characteristics of a zen shower. A Zen Shower is a shower with an oriental touch, making the bathroom a place of pure relaxation and meditation. Usually, those who decide to have it, design the bathroom based precisely on certain oriental characteristics. For example, the most used materials for furniture are wood, ceramics and and stone, since they are elements that allow us to have a contact with nature. So, absolutely no products, furniture or items made of plastic or other industrial materials. The colors of the furniture are also very important, those most used are neutral, cold and close to natural shades. Avoid bright and very bright colors.
The zen shower is perfect for those who follow the dictates of Eastern philosophy and Zen.
MATERIALS FOR THE ZEN SHOWER
At this point, let's move on to the shower. Fundamental, is to give a lot of importance to the choice of the shower head. Among those that we recommend there is the one with LED lights, perfect for those who love color therapy; or the shower head with mineral saltsinside.
Inside the shower, don't forget to place a small shelf where you can have at hand all the products you need for your bath, including a good shower gel, perhaps organic. Finally, enhance the bathroom with some indoor plants.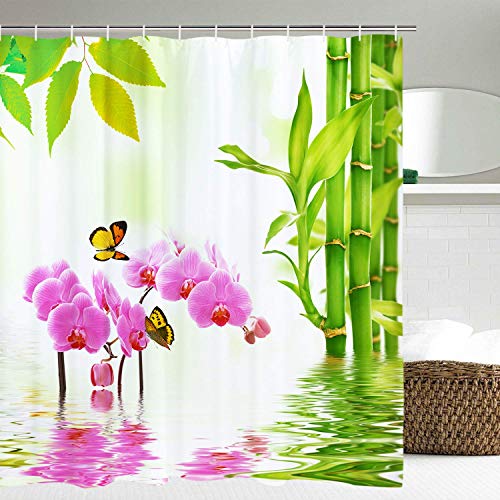 MINIMALISM AND RELAXATION
Zen style is then characterized by minimalism and essentiality. So, for the zen shower no frills and pompous decorations, no unnecessary and ostentatious furnishings … Just a few elements, but functional and carefully chosen, to give character to the bathroom and give it an oriental flavor.
The last peculiarity, but not the least, is to instill throughout the bathroom a feeling of calm and tranquility. The lights should not be too energetic. The colors in the room should also be neutral or cool, to facilitate a sense of relaxation.
Another tip could be to design the bathroom as if it were a mini spa where you can also benefit from chromotherapy or hydromassage.
FURNITURE
The ideal bathroom cabinet to recreate the oriental style should have clean and simple lines. For this reason, it is better to aim for minimal furniture, with open shelves and strictly in wood.
The sink should be countertop, or at least clearly separated from the cabinet. Preferably choose a stone sink, which thanks to the irregularity and textured texture will give the whole thing a more natural look.
To go along with the need for a natural look, you could put beautiful stone effect coatings on the walls. Beautiful decorative stones with a "split stone" cut are ideal for giving the bathroom an extra touch of elegance, without sacrificing the natural element typical of oriental decor.
As far as the "relaxation" element is concerned, the best thing to do is to rely on benefits such as those of hydromassage, even through zen shower, or chromotherapy.
A nice hot tub is definitely a plus point for a bathroom that aspires to oriental decor. The ability to be pampered by the jets of water is perfectly in keeping with the canons of the oriental bath!
As an alternative to the bathtub, we can also opt for a beautiful multifunctional shower column (better known as a zen shower) which, in addition to the hydromassage function, can also offer us the positive effects of chromotherapy. Not for nothing, from this point of view, the shower column is the non plus ultra for relaxation and personal hygiene!
LEAVE A COMMENT
If you found the article interesting, please leave a comment! Also, if you need some guidance on choosing your zen shower, send an email to valeriadesign@casaomnia.it!