ZEN SHOWER: INTRODUCTION
A Zen Shower is the element that gives your bathroom an oriental touch and transforms it into a structured environment of style, relaxation and well-being. Here are shopping tips for designing your zen shower in the best way possible.
The Zen philosophy has a history of thousands of years and is based on the search for balance, well-being and serenity through meditation and choice of a sobersurrounding environment, strongly linked to the natural world and with elements that promote calm and tranquillity. Zen is not only an approach to existence, but it turns into something else, contaminating every stream of human life, including… architecture.
It is, in fact, not uncommon for houses to be designed according to this approach, setting the house and its environments in this spirit: from the materials used, up to the choice of decorative elements in the theme, the Zen style is one of the most popular trends.
The shower in this style is verypopular in bathrooms. If you are inspired by this style and want to make a Zen Shower, here are our tips for the acquired, not to make mistakes and get a perfect Zen shower.
MATERIALS FOR THE ZEN SHOWER
To create a Zen Shower, a Zen-style shower that lives up to the concept, our goal is to recreate an environment that rises to a new dimension, that manages to muffle the room and make it a place of absolute peace and relaxation. In order to give life to this new interpretation of the shower element, we must rely on all those materials that can come as close as possible to a natural environment. How to replicate the power of nature and its beneficial capacity within an architectural element such as the shower?
To do this we need to use materials that are suitable for this purpose.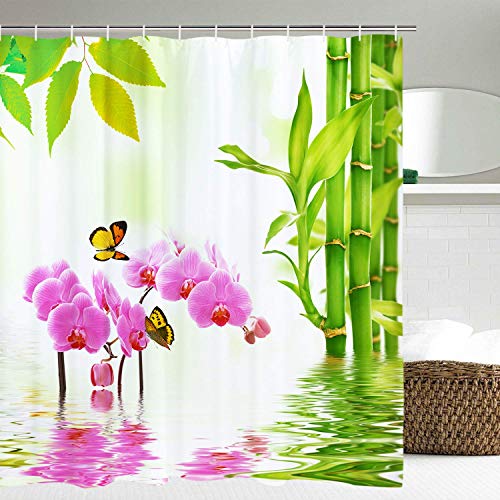 STONE
The first material suitable for the creation of the Zen shower is stone. This material has a number of advantages and other disadvantages.
The plus point is aesthetics. A material that contributes fully to the realization of a Zen-style shower. The stones most commonly used are of fluvial or volcanic origin .
The main disadvantage of this material is the price, which is higher than other alternatives. The average price for stone cladding is around €50 per square metre. Another factor to consider is the maintenance to be followed for this type of material, which must be constant and well executed. Limescale in water, in fact, acts faster on stones than on other materials.
CERAMICS
The material par excellence when it comes to sanitary ware is ceramic. It is a resistant material, hygienic, easy to clean and economical, offered at a price ranging from 9 to 20 € per square meter. In addition, ceramics can adopt shapes and compositions for all styles, including Zem. Thanks to the ceramic cladding you can create the walls for the Zen Shower, using tiles or mosaics. to make the effect believable, use colors ranging from beige to black.
Add some details, such as shelves or vases, also in ceramic, and your shower will turn into a happy oasis.
WOOD
Similar to wood, with natural tones such as bamboo, there is a material that simulates wood grain but is specially treated to withstand the humid climate of the shower: Teak wood. It is a material that is even used for boat covers, luxurious and elegant. Its price ranges between 15 and 30 € per square meter.
STRUCTURE
Once you have identified the most suitable material for the Zen shower, it is important to evaluate what will be the most suitable structure for it.
To be in line with the theme, our advice is to give breadth to the shower, to make it the protagonist element of the bathroom.
The main options, among the many on which to range, are two:
Shower compartment
Shower room and bathtub.
The first option, which sees a single shower, is the most versatile, suitable for bathrooms of all sizes. The feature that stands out is definitely the transparent compartment.
The second option, on the other hand, has the bathtub as the main compartment and a shower head is placed above it, typically in a Zen theme.
SUITABLE ACCESSORIES
What accessories should you choose so that your Zen Shower is perfect in every detail?
Firstly, you need to give relevance to the shower head. We recommend choosing one enriched with LED lights, which intermittently change colour, helping to create a very therapeutic colour game. It is known, in fact, that colour therapy is one of the co-factors of Zen philosophy .
A second element is the hanging stand, to have products and cosmetics in order. The one most suitable for the Zen shower sees clean lines, in a dark colour and essential shape. Alternatively, brackets embedded in the masonry can be conceived at the design stage.
ZEN SHOWER LOW COST
The last valid alternative, but in line with reduced budgets, is to transform your shower into a Zen corner using some tricks. Such as the shower curtain in the theme, which reproduces typically oriental patterns and can contribute to the dream of a Zen Shower, with minimum effort and minimum investment.
LEAVE A COMMENT
If you found the article interesting, please leave a comment! Also, if you need some guidance on choosing your zen shower, send an email to valeriadesign@casaomnia.it!