NEWBORN BEDROOM: INTRODUCTION
When in a family there is a baby on the way, usually one of the first thoughts of the parents concerns the setting up and decoration of the baby room that will welcome him. How to organize the bedroom of a newborn?
For the first 5/6 months of a baby's life, it is not unusual for many parents to choose to place the crib or crib in their own room, but it can still be very useful to organize a space dedicated to holding all the items necessary for the care of the new arrival right from the start.
ESSENTIAL ELEMENTS
What are the essentials in the baby room?
a cradle for the first months
a crib with bars
a chest of drawers, to store the baby's layette and useful objects, such as pacifiers and feeding bottles
a comfortable changing table, preferably one with a built-in drawer so you can have diapers, wipes, bodysuits and onesies at your fingertips. When the baby no longer needs the changing table, it will still be a useful chest of drawers.
an armchair, such as a rocking chair, to allow the mother to be comfortable while breastfeeding
a soft and hypoallergenic carpet where you can lay your baby from the first months of life, to begin to stimulate him in the knowledge of the surrounding environment
DECORATIVE ELEMENTS
If you don't want to design the baby room with a specific theme, you can set baby-friendly accents with various decorative elements. The baby room can be customized in a few moves: music boxes, colorful covers, partition paper … free your imagination!
Curtains, pillows and ottomans make the room warmer and more comfortable: choose them in a beautiful green, reminiscent of nature and relaxing.
How about a nice rug? Soft and fluffy, it can also have a different shape than usual. Plus, your child can use it to play with when they are older.
A few stuffed animals on the shelf always adds a cheerful and cuddly touch to a baby's bedroom.
An adjustable intensity ceiling lamp and small indirect light sources are perfect for creating a soft, relaxing light at night.
Use wallpaper, squares or adhesive decorations to personalize a wall of your choice. Our favorite fantasies? Those with patterns of flowers, animals and leaves, for a jungle effect!
IN CONCLUSION…
Finally, in the bedroom of a newborn, can not miss the soft toys: do you know what is the doudou? This is a transitional item, normally a bunny or a soft teddy bear to buy before birth and keep in mom and dad's bed: you will then put it in its crib, so the "mom" smell will help your baby sleep alone and make him feel safe and protected.
Share the moment of waiting and organizing the baby's room with the future father: the baby, especially at the beginning, will need you very much, but it will also be important for your partner to find his own space to relate to the baby. Feeling involved in creating the most suitable space for your pup is sure to make him happy.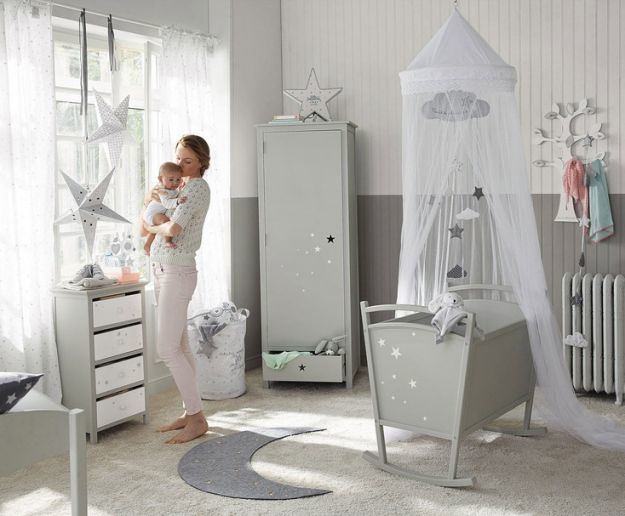 LEAVE A COMMENT
Finally, if you found the article interesting, leave a comment. Also, if you need guidance on decorating your baby room, email valeriadesign@casaomnia.it! Drop by our online portal CasaOmnia.it!