NEWBORN BEDROOM: INTRODUCTION
How to furnish the newborn's room? Ideas, examples of furnished rooms for children and babies, photos, tips, things to know and wall colors.
While waiting for the baby to be born, the parents get ready to welcome him into his love nest: a bedroom for babies to be created especially for him!
NEWBORN BEDROOM
Often we do not know where to start and how to organize the space, which must certainly be suitable for babies, safe, practical and useful for managing the various activities of mothers.
Let's see tips and useful tips on how to furnish the bedroom for the newborn by proposing photos and images of furnished newborn bedrooms from which to find ideas and ideas for the project able to satisfy tastes and needs.
COLORS OF THE WALLS
Even before proceeding with the furnishing or creating a synergy, you need to think about the color of the room walls.
In fact, colors create different moods and can be a source of well-being for the new unborn, thanks to chromotherapy.
In order not to be mistaken, you can prefer a classic and neutral white color, but you can take advantage of relaxing shades such as ecru or lively shades such as dove gray for your walls.
BEDROOM FURNITURE FOR NEWBORN
Let's now move on to the list of furniture items that absolutely must not be missing in a newborn bedroom:
the cradle;
the changing table;
the septet or a wardrobe;
the baby bath tub;
the play box;
the mosquito net (useful during the summer);
the little light for the night;
the good quality walkie talkie;
a comfortable chair or sofa for breastfeeding.
SAFETY
Whether we have aimed at a cot or a cradle, it is good to make sure that the sides are protected by bumpers.
To paint the walls of the baby's bedroom, we use quality products that do not release residues and dust and that do not contain toxic substances inside.
SPACE SAVING SOLUTIONS
And what to do if we don't have large spaces or want to have the baby in the master bedroom for the first few periods?
It is possible to take advantage of a useful space, even inside the parents' room, to be dedicated to space-saving solutions: there are on the market combo cradle furniture with septet – changing table, with a minimum size of 150×80 that allow you to manage a space for babies in all environments.
USEFUL IDEAS
In addition, it is possible to find furniture lines dedicated to babies and children on the market at furniture stores, including IKEA.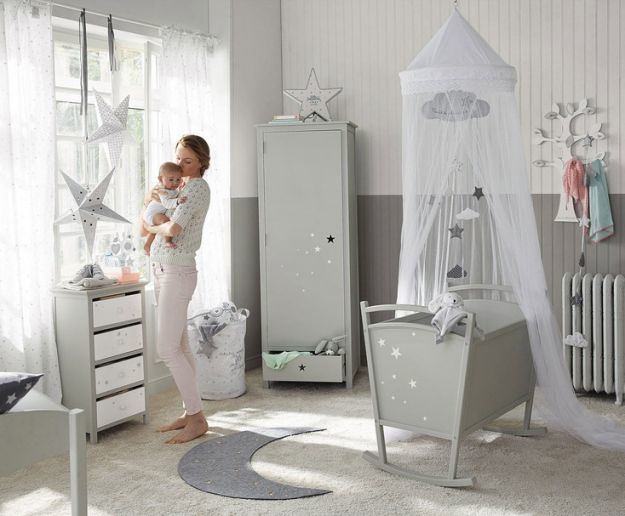 LEAVE A COMMENT
Finally, if you found the article interesting, leave a comment. Furthermore, if you need a guide to furnish your baby room, send an email to valeriadesign@casaomnia.it!